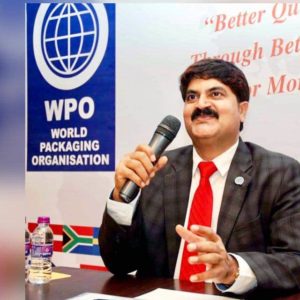 An interview of chakravarthi AVPS after he was appointed as global ambassador of World Packaging Organisation…
Chakravarthi AVPS is Managing Director of Ecobliss India, a company that offersinnovative packaging solutions. He is also Winner of Worldstar awards (the highest in packaging excellence) for five years in a row with 100% success, a World Record!
He has served as chairman of IIP Hyderabad, associated with it since inception. He also has been on the Governing board of Indian Institute of Packaging for over a decade. He is actively associated with Packaging activities, worldwide for a long time and has been on management committees of various national and international organizations.
Chakravarthi is Instrumental in developing various pharmaceutical compliance packs for US and regulatory markets! A true packaging lover and thoroughly passionate, Chakravarthi had several articles published in various magazines. He widely participated in live interaction programmes of public interest in TV shows. Toured extensively worldwide, during the past two and half decades. Delivered lectures and chaired various sessions on different topics on various national and international platforms. Chakravarthi has been in paper, printing and packaging field for over three decades. Packaging 360 took the opportunity of having a chat with him and here below is the gist of the same:
How do you envision your role as Global Ambassador WPO?
I have been appointed as Global Ambassador of World Packaging Organisation, WPO Brazil at the 99th board meeting of WPO in November, 2017 in Rio de Geneiro. I have several opportunities to interact with packaging industry and academia across the globe.
I consider this honor as the result of the knowledge impeded from various seniors from the industries were I have worked and the well wishes of thousands of packaging lovers across the globe. I promise to contribute to his best to the industry in the capacity of Global Ambassador of World Packaging Organization.
There is still great void in packaging education and awareness in the society in many countries and this is where WPO does its bit by meaningful contributions in this area.
Apart from promoting WPO activities and involving actively in packaging & related industry activities around the world, improving the membership of WPO is one of my key responsibilities. There are still considerable number of countries who will join the WPO board in the coming days. WPO is contemplating to have industry and academic associations as contributing members apart from the National institutes and packaging organizations. This will help the organization to work better in achieving its objectives with the addition of more like minded people from various fields who join us and working actively with us.
What are your views on the recent adverse image of packaging being bandied around?
There is no culture on earth that can do without packaging and I am pained that it is viewed by many as a problem and an unavoidable burden. The world cannot do without packaging, but we must learn to make packaging more effective than ever before and we must educate people everywhere to respect the purpose of packaging.
I feel, packaging should be considered as an industry segment like any other major segments like steel, cement and so on and every measure be taken for the upliftment of the industry and there by contribute to the development of international trade;
Despite the efforts of state and NGOs and many organizations , the handling of post-consumer packaging waste is becoming a major threat especially in pharmaceuticals, Thus there is a major potential for research around bio-based polyethene (PE) and bio-based polyethene terephthalate (PET).
These materials are easily recyclable alongside their conventional counterparts in existing recycling streams, though there is a counter claim that it will have a huge impact on the carbon footprint in producing such material.
The industry thus has underwent major changes and saw the upgrade in terms of quality and offering convenience to customers.
Can you comment on the current innovations in Packaging?
Digital printing innovations in packaging, dynamic and disruptive packaging, innovations that extend the shelf life of various products substantially from current levels, commercial use of Nanotechnology in packaging are some of the key things to happen in the immediate future. From my experiences, AI, artificial intelligence has entered into the packaging arena much faster than expected and all the future packaging projects will use AI as an integral part.
How does the Indian pharmaceutical industry view sustainability issues, especially post-consumer packaging waste?
Pharmaceutical industry approach today is more user centric and has personalized focus evolving from traditional methods. Sensitive and potent drugs are on the rise! The designing of packaging and its labelling is being decided right at the product development keeping in view convenience, safety, patient adherence and so on.
Packaging can actually play key role in protecting the gamut of pharmaceutical supply chain. Swift and effective communication among all the stake holders viz., industry, users, and regulatory/controlling/clearing authorities is possible by adopting best packaging practices.
Translating an user-friendly design (which has become a primary requirement now) into adhering all technical specifications and addressing multiple user groups in the broadest sense, is always a challenge. Especially when you need to consider people of different culture, habits, age, language their ability so on.
What is WPO's stand on Packaging Sustainability?
WPO supports the Global Protocol for Packaging Sustainability, GPPS 2.0, which gives excellent guidance in performing any environmental comparison.
Packaging actually contributes to Sustainability. This is well documented in several position papers issued by the WPO.
The Sustainability Award, judged and produced by WPO is a step in the right direction in rewarding new innovation supporting the development of even more sustainable packaging. Reducing food waste may solve global food needs for the future, especially under the backdrop of around 1/3rd of food is wasted globally in different forms. And packaging is a major conduit to achieve this objective.
Because majority of 1.3B tons of food that is thrown away is due to spoilage due to incorrect storage or inappropriate transport methods or because it fails to meet standards.
In fact if we notice during the decade or a little more, packaging industry is actually reinventing itself as a whole. There have been remarkable improvements in material, processes and in energy efficiency influencing the total environmental footprint. A lot of emphasis has been put on the packaging waste issue. In the developed countries a determined direction has been set to circular economy in which waste becomes new raw material. Littering issue remains a societal challenge in many areas in the world. Good packaging contributes in providing safe and hygienic food around the world. Safe packaging is new kid on the block. There is pressing need to avoid potential risk of chemical contamination to the products packed by virtue of the packaging material. Total product safety to be achieved by virtue of cooperative and collaborative efforts from all stake holders.
Can you give details about the WPO World Star "Save Food Packaging" Special Award?
In cooperation with Save Food Initiative and Interpack, WPO organizes a World Star "Save Food Packaging" Special Award to highlight the role of packaging in preventing food losses and food waste. We call for smart and sustainable packaging concepts to improve the supply of food to a growing global population
Food safety is a scientific discipline describing handling, preparation, and storage of food in ways that prevent foodborne illness. This includes a number of routines that should be followed to avoid potentially severe health hazards. The WPO sees that within this line of thought are safety between industry and the market and then between the market and the consumer. In considering industry to market practices, food safety considerations in packaging technology include the origins of packaging materials including the practices relating to food contact materials, food labelling, food and packaging hygiene, as well as policies and guidelines for the management of governmental (of the country in discussion) import and export inspection and certification systems for packaging materials. In considering market to consumer practices, the usual thought is that food and its packaging material ought to be safe in the market and the concern is safe delivery and preparation of the packed food for the consumer.
For the uninitiated can you describe the activities of WPO?
The World Packaging Organization (WPO) is the International apex body in the field of packaging.
Founded September 6, 1968 in Tokyo by visionary leaders from the global packaging community, the purposes of the organization include to:
Encourage the development of packaging technology, science, access, and engineering;
Contribute to the development of international trade; and
Stimulate education and training in packaging.
The vision of WPO is
"Better Quality of Life, Through Better Packaging, For More People"
WPO is committed to educating people about the value that packaging adds to Society, not only for food but for beverages, pharmaceuticals, and virtually every product used by consumers and industry alike.
Its main objectives are to work through the national packaging organizations and other members and interested parties to:
Promote globally the development of packaging technology, science, and engineering;
Stimulate the development of packaging skills and expertise;
Encourage communication concerning packaging technology, applications, and achievements.
Provide a forum for those organizations interested in furthering the state of the art of packaging;
Monitor and communicate with its members concerning packaging-related issues such as consumer safety, food preservation, and environmental impact;
Assist in the creation of conditions that will help optimize the conservation, preservation, and distribution of foodstuffs and other packaged products;
Contribute to the development of international trade;
Advice on the formation and operation of national packaging organizations and institutes;
Provide information on sources of packaging knowledge and so on.
Can you give us a gist of the talks that you have given in various countries?
Some of noteworthy deliberations among so many addresses that I gave in almost every continent is given below:
'Packaging innovation has a large role to play in the highly regulated pharma market' at Budapest, Hungary at a WPO congress
"R&D in Sustainable Packaging Vital for the Industry" in Global Outlook Conference by RISI in Dubai
"Packaging in the circular economy – a Sustainable Business" at an International Conclave conducted by APF in Bangkok
'Role of innovation in green packaging to meet the rapidly changing consumer demands' at the International Green Packaging Conference at Jakarta
The Special Address on "Changing World – Developments and Trends in Pharma & Healthcare Packaging"
Interview by – Dr.Ranga Prasad